Drum Waiter © - CLASSIC OAK SERIES NOW AVAILABLE - ONLY 2 LEFT!
We all know that it's important to stay hydrated. Get that pile of car keys, coins, wallet and beverages off the floor and by your side with the Kentville Drums Drum Waiter © - it serves you right!
As used by Todd Sucherman - Styx, Mark Lucas – the Radiators, Gerry Morgan – James Bay, Guy Du Blet - Orchestra Victoria
Our classic oak series is selling out fast, check the numbered photos below to see which Drum Waiters remain available. These waiters feature american oak shells, walnut feature dots, brass-tacked faux suede pouches and an inlay unique to each unit. Tasteful natural satin finish with universal L-arm mounting bracket. - $400 AUD each. Contact us for further details.
The wait is over - let the waiting begin
Special order rawhide heads
In addition to our standard line of kangaroo hide heads for drum kit we also offer a reheading service for all manner of other instruments in a choice of kangaroo, calf or goat. From dafs, bodhrans, tambourines and congas to djembes, banjos, cuicas and bongos – rawhide heads are our specialty
Custom Builds
From frame drums to inlay to suitcase bass drums or custom hoops. Whether you're looking for unique flair or niche utility, no matter how exciting or boring, elaborate or simple – if you've got a project in mind we can help.
Evetts Kentville Rose Limited Edition Snares - SOLD OUT
A collaborative venture from Kentville Drums and Evetts Drums. Australian spotted gum shells from Evetts Drums with ten unique exotic timber inlay designs from Kentville Drums. Five at 14"x5.5", five at 14"x6.5".
Australian drum building at its finest, pieces in this series have been purchased by Mick Fleetwood, Todd Sucherman, Myles Heskett, Jackie Barnes, Bob Campbell et al
All drums from this series have now been sold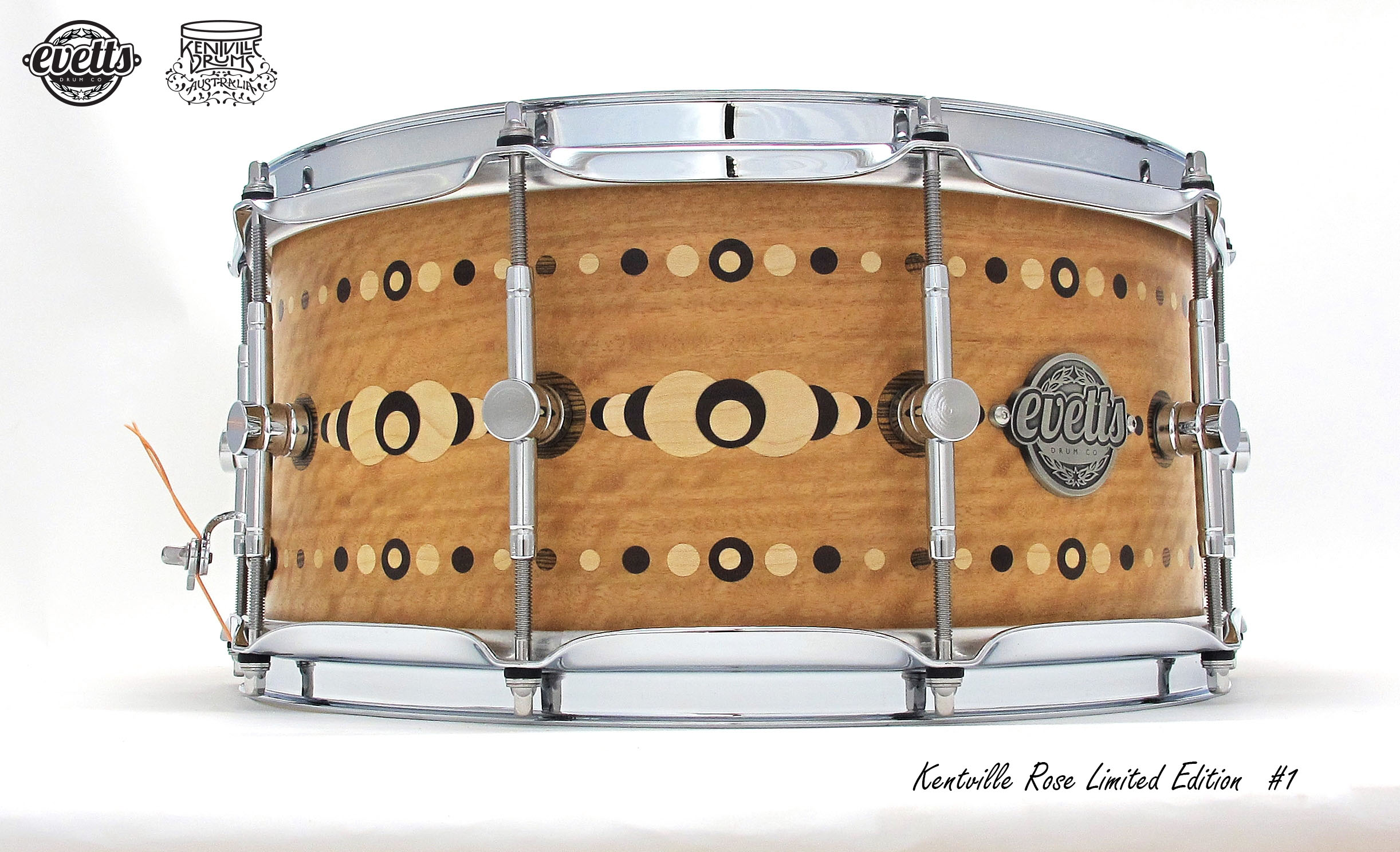 Handmade cymbal earrings
"I adore my cymbal earrings!" - Terri Lyne Carrington
Hammered brass with antiqued brass hooks, these are handmade right here in our workshop. The perfect way to make your loved one look a bit more like a drum kit. Limited stock available - $40AUD per pair, worldwide shipping available. Order via contact page.